frank
10-15-2013, 08:18 AM
Why 30mm F2.8 FF?


Guest
10-15-2013, 08:26 AM
Quote:Why 30mm F2.8 FF?
compact size option. This is equal to 20mm F2.0 on APSC  
It's actually 35mm. 
Quote:Why 30mm F2.8 FF?
If you are happy with a 22mm f2 lens, there is no real reason to choose FF + 35mm f2.8 instead. But the FF camera can carry other lenses too, and most people will be fine with a smaller aperture 35mm lens.
Now the question is the price. Apparently, the 55mm f1.8 will be 1100 euros, which is far too much for a nifty fifty, IMHO. 


felix
10-15-2013, 12:50 PM
I think the 35/2.8 looks fine, but that 55mm (why 5
5
?!) seems to be quite big. And, yes, 1100€ is way too much for a not-so-fast standard prime.  :blink:
I am also wondering about the two standard zoom lenses. They look as if Sony was not really making use of the short flange distance of the E-mount*; more like lenses for 30-35mm flange distance with an integrated adapter...  I hope Klaus will find the time to squeeze some more tests into the schedule 
All this FF E-mount stuff is really interesting and I am actually somewhat tempted to get an A7 to accompany my OM lenses, but this voice in the back of my head won't stop telling me that Sony is going to screw up somehow... 
*e.g.: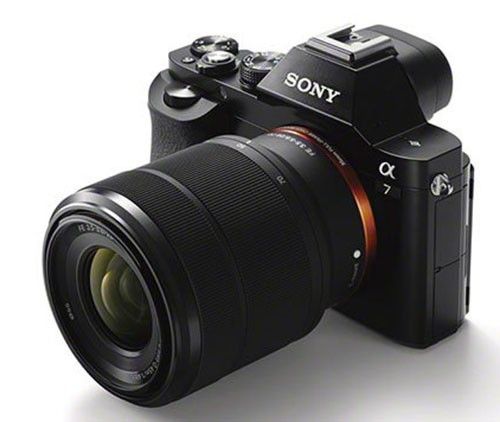 Guest
10-15-2013, 03:15 PM
Not sure; is that 55mm f1.8 APO ? 1K seems excessive but size wise it might be ok. It looks large on the A7; but the A7 is smaller than the e-M1 which magnifies the size. For the zoom- I haven't really examined them but I wonder if they are reusing slr designs ?


Sony is in an unenviable spot: they're facing an uphill battle against the popular opinion which demands the new lenses to have all 4 virtues at once (small / cheap / fast / good IQ), whereas we know that usually we can only have 2 of those at once, 3 tops (Canon did that with their 40/2.8 'cake, you have to give them that). However, Sony's (rumored) prices did get me wondering if they're secretly borrowing from Leica's book - but we have to see what the street prices are vs. MSRP. And, of course, how good the lenses really are.

 

P.S. I guess that for many of the diehards (that have been demanding a FF NEX all along) these lenses are fairly irrelevant anyways... they'll be getting their body only boxes, slap on the M adapter and shoot away.


Sony's pricing strategy is fairly obvious.

They attract customers with comparatively low kit prices and then they are ripping off with the accessory & lens prices.

 

I reckon they learned this from the printer business. Thus customers have to invest a bit to get something attractive. On the long term it hurts because you are locked in but you don't want to part since your initial investment was too high to just switch horses.


frank
10-16-2013, 03:27 AM
The camera looks like a mixed combination of a slr and a range-finder.